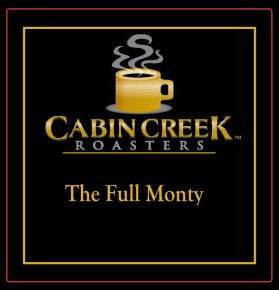 The "Full Monty" Blend
$ 8.50
Cabin Creek's first blend, which became popular overnight, was named after original Roastmaster, Monty Ruckman.  Its full body and rich aroma grab your attention and linger on your tongue even after the cup is empty. The boldness and acidity are well-balanced with a light sweet finish.
BLIND ASSESSMENT: Very deep, gently pungent aroma with aromatic wood and bittersweet chocolate notes. In the cup remains pungent but sweet, heavy with a woody chocolate and round, banana-toned fruit.
WHO SHOULD DRINK IT: In many respects an anti-breakfast coffee: Enjoy its leather-chair and wood-paneled weight late in the day.